Our School
Whorouly Primary School is located in a small rural township, 30 kilometres south-east of Wangaratta, in North-East Victoria. The school has served its local district since 1874. We have students across all grade levels from Foundation to Grade 6.
Students are drawn from the town itself and the school bus service transports students from the surrounding district. Our school has close ties with the neighbouring Whorouly Pre School and local community groups. Whorouly Primary School is a member of the Ovens Learning Community of schools and is the base school for the MACC (Mobile Art) Program servicing seven schools.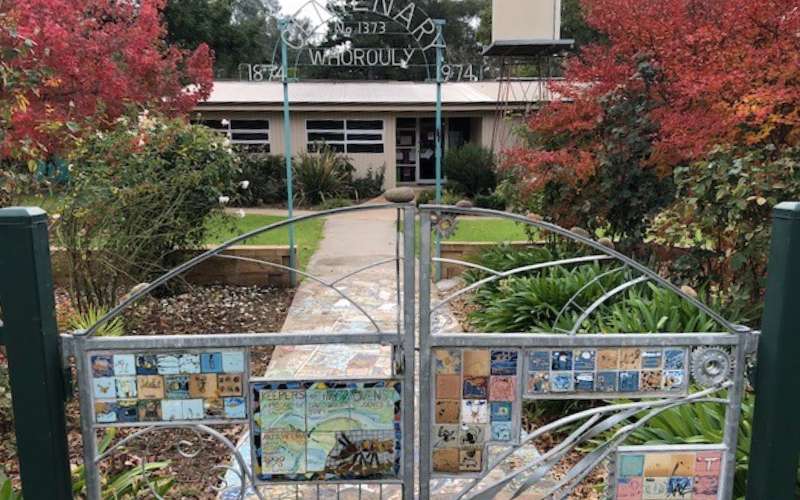 Our Learning Spaces
The Whorouly Primary School buildings consist of a semi-open plan learning space, with a junior and senior classroom space, a multi-purpose classroom, a large covered deck, kitchen/staffroom, office, resource room and library/meeting room.
Also located on the school grounds is an art shed, a kitchen garden, a large, grassed playing area, covered adventure playground, and a covered hard court.
---
Optimistic, Resilient, Creative & Critical Thinkers
In 2021 enrolments increased to 36 students across all grade levels from Foundation to Grade 6.

Our students come from a wide range of families with diverse backgrounds. We provide a nurturing and challenging environment that empowers students to achieve their personal best, both academically and socially and become optimistic, resilient, creative and critical thinkers.
We seek to promote our school values and inspire diversity, achievement, responsibility and endeavour, throughout the curriculum, in co-curricular activities, and in our daily operations.